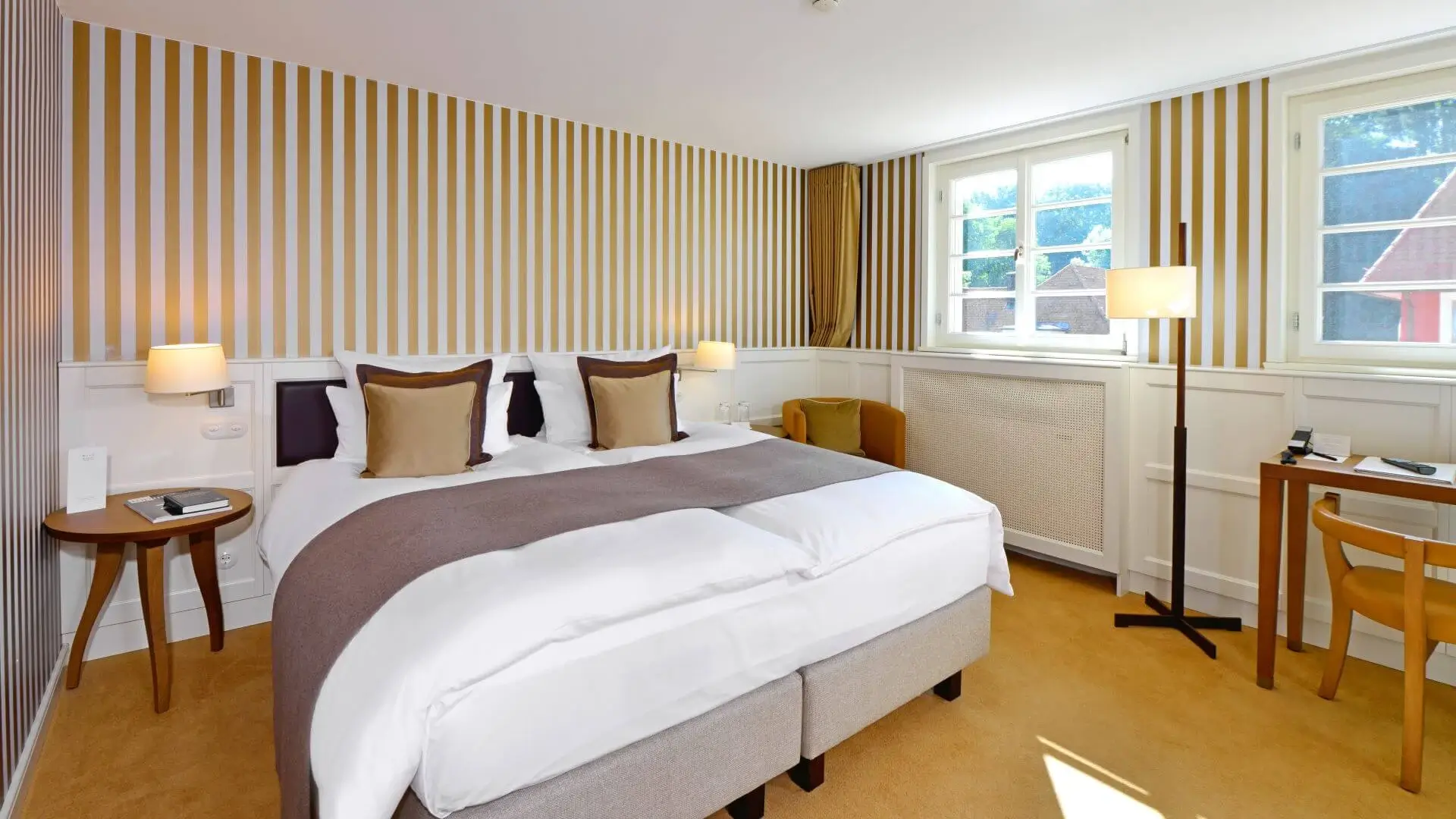 Light, individual, tastefully furnished
The classic double rooms of our hotel in Stuttgart
Soft carpets, light marble bathrooms and individual designer wallpapers:
the double rooms in the classic category of our hotel in Stuttgart are more than just accommodation for your weekend trip or sports holiday. The rooms are located on the first floor of the historic, heritage-listed part of the building and in the "Lindenbau" surrounded by nature. Here you can enjoy the unique rustic flair and a lot of peace.
The elegantly designed classic rooms are 22 to 31 square meters in size - some come equipped with a kitchenette, making them ideal as comfort rooms for longer holidays or business trips. If you would prefer to wake up in the morning in your own peace and quiet, feel free to prepare a cup of coffee or tea before you go indulge in our breakfast buffet.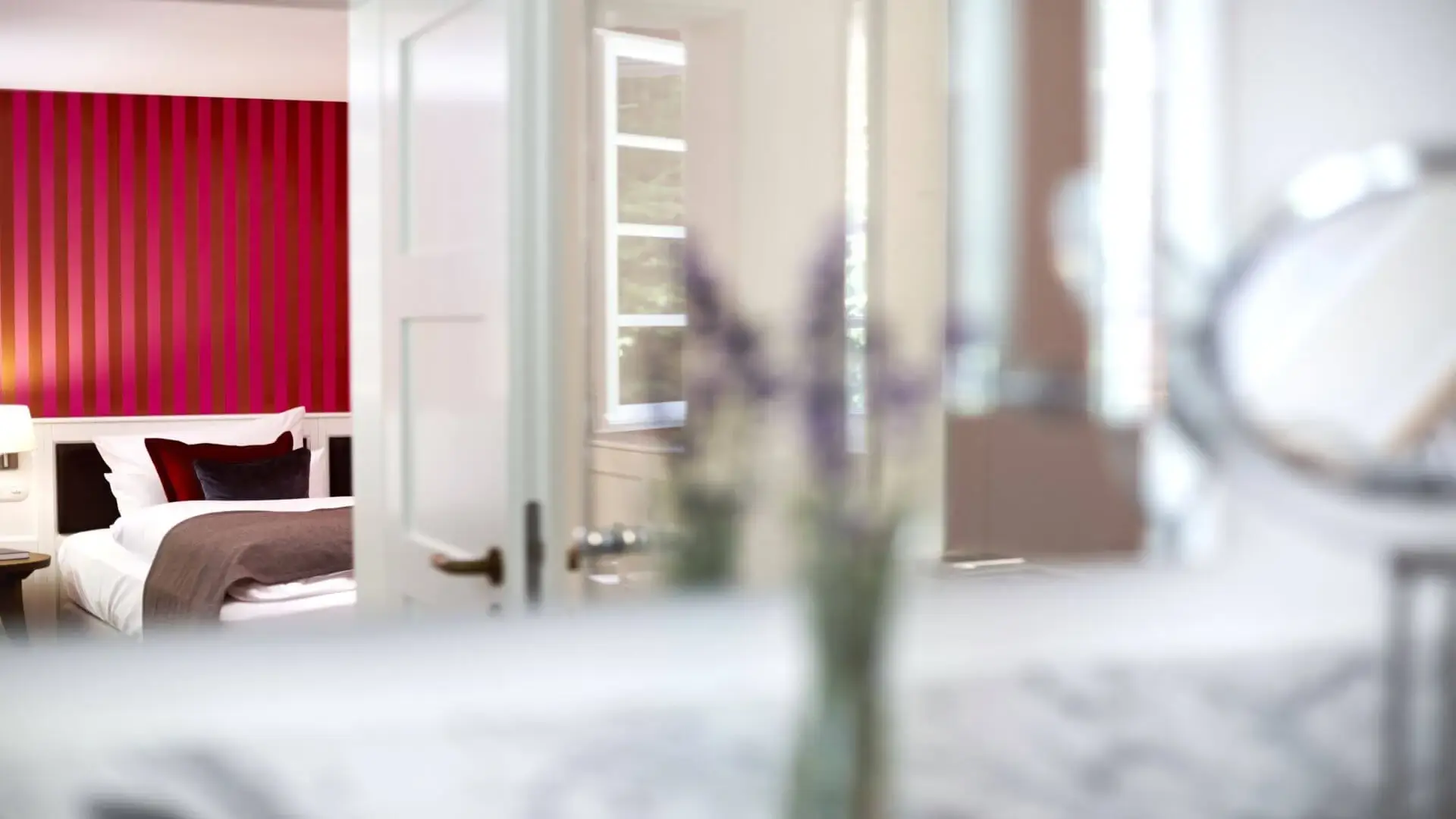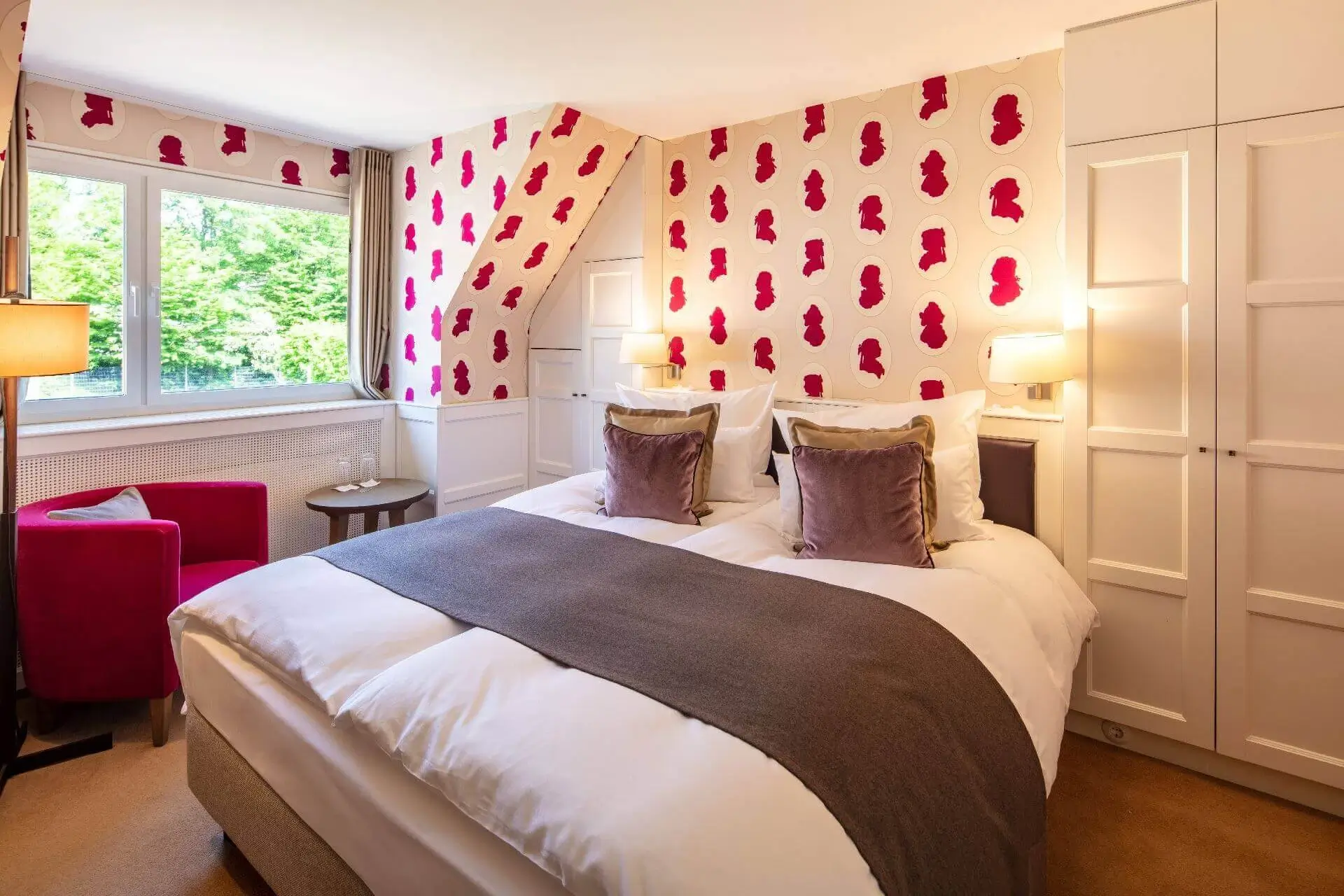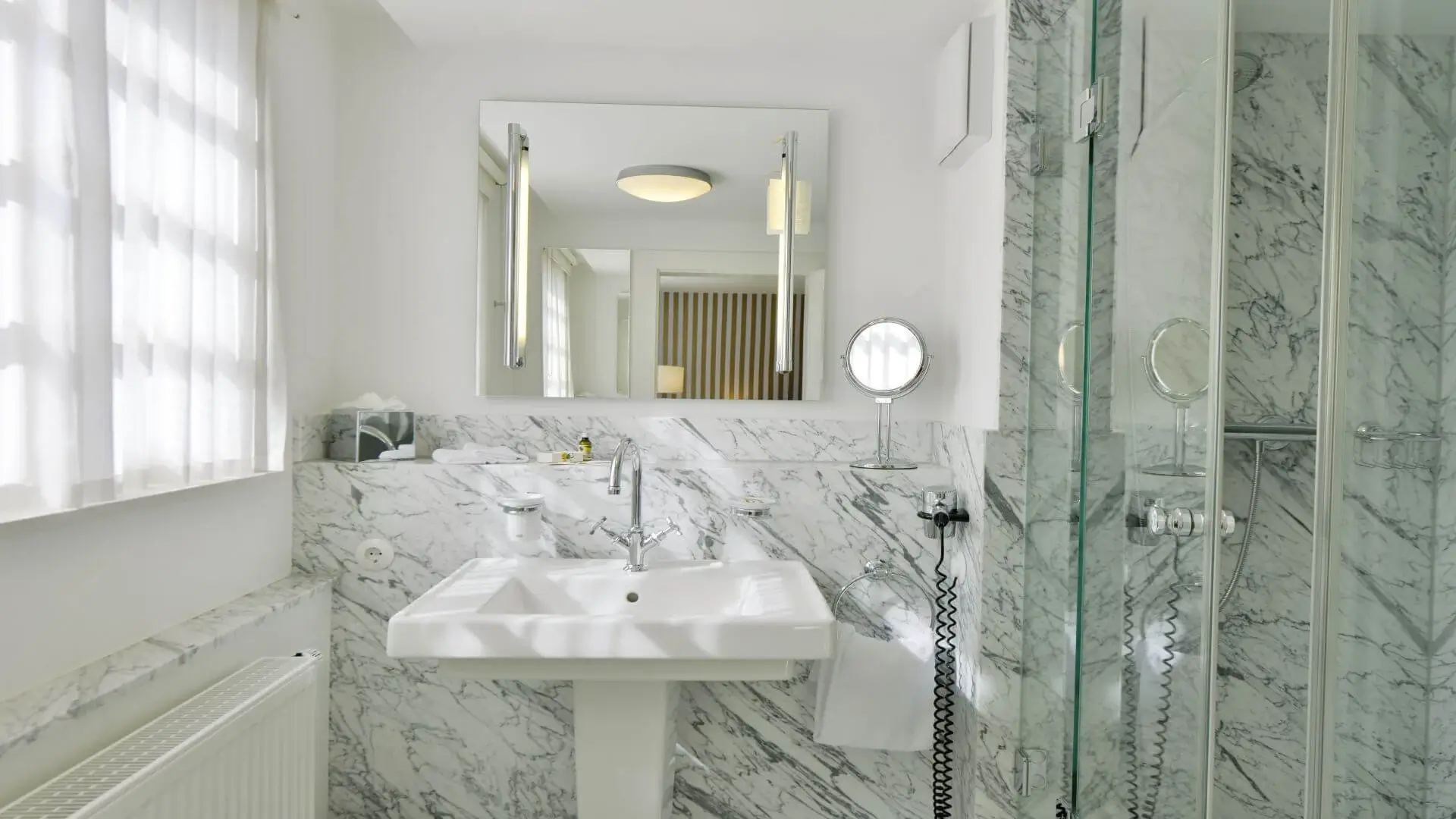 Relaxation during holidays and business trips
Tea and coffee facilities are available in your hotel room and are included in the price of your overnight stay. As you breathe in the refreshing aroma of your hot drink, leaf through your travel guide and plan a new day of your city trip, or can simply enjoy the view of the countryside that makes our hotel in Stuttgart so unique.
For your business trip to Stuttgart, our trade fair hotel is the perfect accommodation. Spend the night in one of our classic rooms, in a spacious 1.80 x 2.10 meter large bed and wake up refreshed and rested in the morning. In the enclosed marble bathroom, enjoy a little taste of luxury before leaving for your next meeting.
When returning to your room at the Waldhotel Stuttgart in the evening after a busy day, feel at home in the relaxing atmosphere of your room, with cosy English carpeting and comfortable furnishings. Allow yourself to recuperate with an hour in therelaxation in the relaxation area before descending back to the comfort of your bed for a peaceful and refreshing sleep before your next endeavour.
Please note that these rooms of the hotel in Stuttgart are not accessible by lift.
>>In our historical building you will find rooms unique due to their cheerful interior in a classic style and offer you a comfortable stay.<<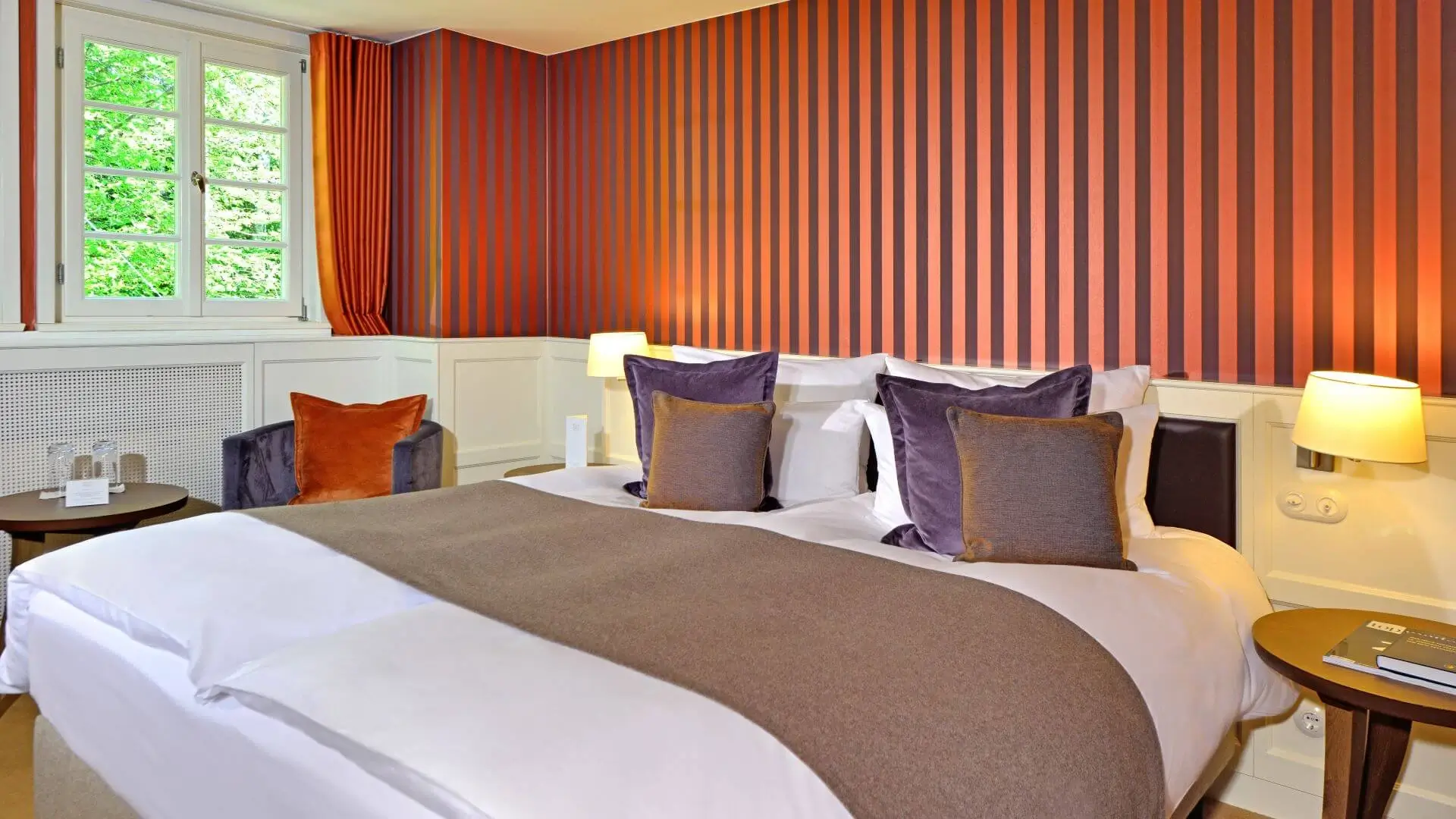 Convenient online booking of classic hotel rooms
Book a standard double room at the guaranteed best price!
Customer reviews
Our guests share their experiences of the Waldhotel Stuttgart