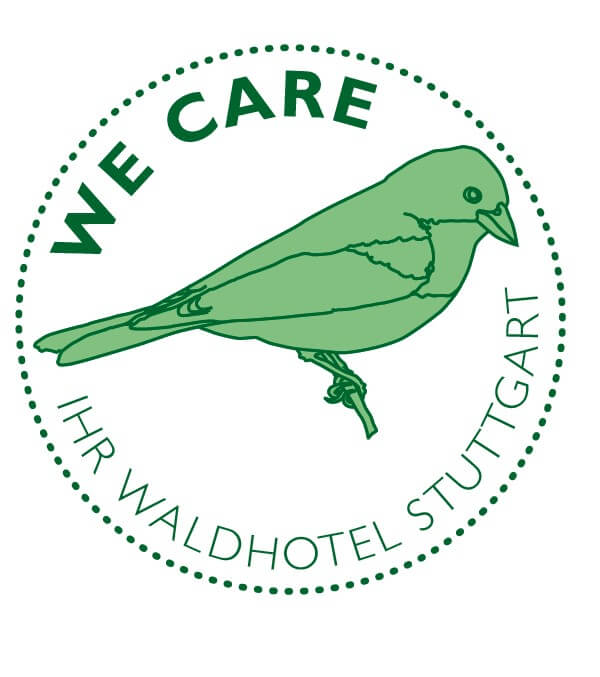 WE CARE
The hygiene concept of Waldhotel Stuttgart
Feel completely comfortable and safe
Since our opening in 2011, we have placed great emphasis on having high hygiene standards. Our guests appreciate this: It is not without good reason that our cleanliness ranks first in the evaluation portals.
We take the exceptional responsibility in the hotel and catering industry with regard to hygiene and cleanliness very seriously, because we care about the well-being and health of our guests and employees.
Please disinfect your hands before entering the hotel. The disinfectant dispensers are available directly at the entrances. If you would like a mask for your own safety, you can obtain one free of charge at our reception.
Please keep the recommended distance of at least 1.5m throughout the hotel and be considerate of each other.
We refrain from shaking hands and give you a friendly smile as a greeting.
Your room and bathroom will always be cleaned and disinfected intensively. The following also applies to all public light switches, handrails and surfaces. Please pay attention to our "We-Care"-sticker, this is our guarantee to you.
To ensure the best air quality within the Waldhotel, we ventilate regularly. In addition, UV air purifiers are available in our public areas and in the meeting rooms to support this.
The entrance doors open and close automatically and are left open permanently in perfect weather conditions.
Our employees are thoroughly trained by experts and comply with the hygiene rules. Not only because they are legally obligated to do so, but because they are passionate hosts and care about your well-being.
We trust our guests to be aware of their responsibilities and to follow the recommendations.
Stay healthy and enjoy a relaxed stay with us at the Waldhotel Stuttgart.
We look forward to seeing you!
Your team of the Waldhotel Stuttgart
Questions and answers
For further informations please contact one of our persons in charge.