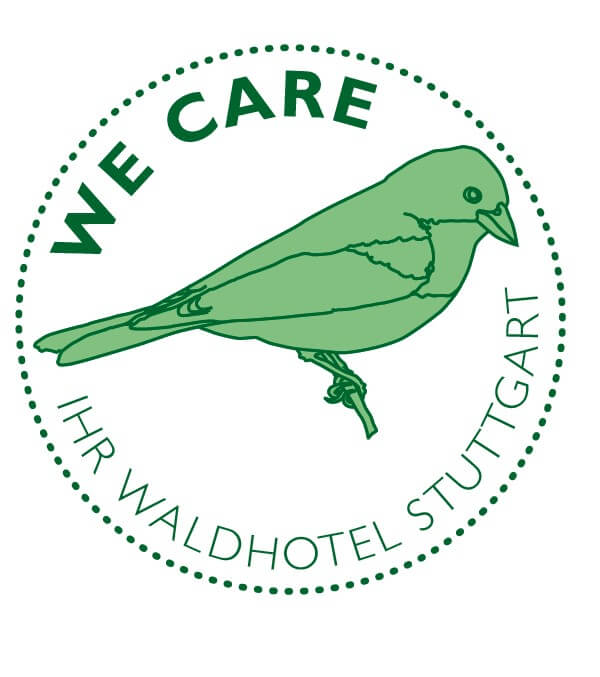 WE CARE
The hygiene concept of Waldhotel Stuttgart
Feel completely comfortable and safe
Since our opening in 2011, we have placed great emphasis on having high hygiene standards. Our guests appreciate this: It is not without good reason that our cleanliness ranks first in the evaluation portals.
We take the exceptional responsibility in the hotel and catering industry with regard to hygiene and cleanliness very seriously, because we care about the well-being and health of our guests and employees.
Therefore – and in regard to the special circumstances – we have developed a new hygiene concept with experts that builds upon what we already have.
WE ARE DOING THIS, TO GIVE YOU THE HIGHEST LEVEL OF SAFETY DURING YOUR STAY
We will stop greeting our guests with handshakes and instead give you a friendly smile (even if it's under our face mask).
Please know that we are not afraid of you, we are only adhering to the required 1.5 meter safety distance.
We are not contagious, we are wearing face masks for your safety and ours.
Your room and bathroom will always be cleaned and disinfected intensively. The following also applies to all public light switches, handrails and surfaces. Please pay attention to our "We-Care"-sticker, this is our guarantee to you.
Our employees are thoroughly trained by experts and comply with the hygiene rules. Not only because they are legally obligated to do so, but because they are passionate hosts and care about your well-being.
Stay healthy and enjoy a relaxed stay with us at the Waldhotel Stuttgart
Questions and answers
For further informations please contact one of our persons in charge
WE CARE
The hygiene concept of Waldhotel Stuttgart
Information for your room reservation
Summary of all relevant informations
Information for our restaurant guests
Summary of all relevant informations